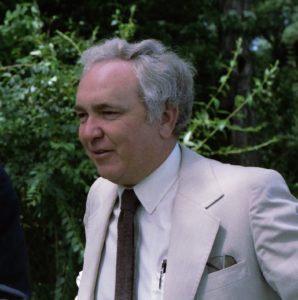 William E. Schmidt was a decorated military pilot, successful businessman and generous supporter of the arts and charitable organizations throughout his life and in the communities where he lived.
Born in Irvine, Kentucky, in 1933, Mr. Schmidt came from a modest and close-knit family that loved music and believed in the power of education. These interests continued as his family moved and eventually settled in Evansville, Indiana, where he spent the majority of his youth and adult life. These values and a strong sense of roots would influence many aspects of his philanthropy – a commitment to family and the quality of life of the people of Southern Indiana and Kentucky.
Mr. Schmidt received his bachelor of arts degree from Depauw University in Greencastle, Indiana, and his master's degree in business administration from George Washington University in Washington, D.C. After serving as an Air Force fighter pilot and instructor, Mr. Schmidt helped to raise three children while launching numerous real estate and entrepreneurial projects, including the Honey Creek Mall in Terre Haute, Indiana.
A soft-spoken man with great listening skills, Mr. Schmidt was known for his quick wit, astute business skills, charitable nature and wide-ranging talents. Throughout his life, he was at times a soccer coach, tenor in the choir, eager golfer, formidable card player and board member of numerous local organizations. After the death of his mother – and with close counsel of his beloved sister, Anna Lee Hamilton – he was the patriarch of a large extended family that he continued to love and support.
It was with Anna Lee's guidance that Mr. Schmidt committed to growing the Schmidt Vocal Competitions, an initiative that has now become a nationally renowned program, touching the lives of more than 5,000 students. With these contests, as well as with his meaningful support of other scholarship programs at numerous universities, schools and community organizations Mr. Schmidt provided a remarkable legacy of dedication to the arts and youth that his Foundation continues to build upon today.
Later in life, Mr. Schmidt moved to Sarasota, Florida, where he became a substantial behind-the-scenes supporter of several key community projects, including the Sarasota Opera. He recognized the value of participatory philanthropy, especially grass-roots and need-based programs in the Sarasota area.
Mr. Schmidt died in 2014 after a lengthy battle with Parkinson's Disease, but his love for and commitment to the arts and the community live on in his family, friends and colleagues. The William E. Schmidt Foundation captures Mr. Schmidt's entrepreneurial and hard-working spirit in the initiatives and projects it selects to fund — always grounded in innovation and led by those committed to a worthy mission.